News
---
HOT NEW PROGRAM FOR 2020! Motor Paintball the most exciting Paintball Game ever!
Attack targets with 100% realistic markers while offroading on a military 4x4!
5 Participants / Car .
Have an unforgettable but affordable military experience with your friends! It is our best program combining Military vehicles - offroading - riding and shooting at the same time!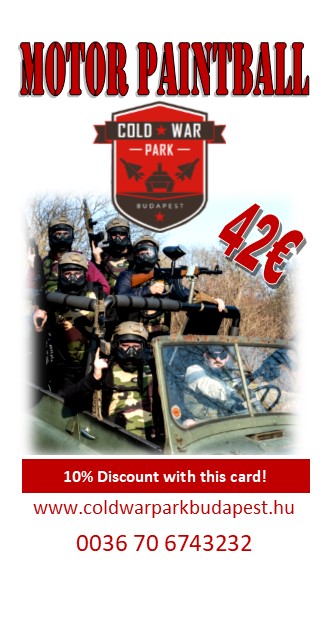 2020-03-01 22:50:32
---
BOOK AT LEAST 48 HOURS AHEAD !
BOOK AT LEAST 48 HOURS AHEAD!
Dear Visitor,
Please be aware that Cold War Park Budapest is a unique interactive Museum and attraction where are no opening hours you can show up from a blue and buy your tickets at the door. Cold War Park works only with prior bookings and closed groups. So there is no queue at the entrance no crowd inside a museum so you can enjoy every minute of your visit.
Looking forward to your reservation,
"Trust is a nice thing, but control is better"
2019-03-31 23:42:12
---