News
---
BOOK AT LEAST 48 HOURS AHEAD !
BOOK AT LEAST 48 HOURS AHEAD!
Dear Visitor,
Please be aware that Cold War Park Budapest is a unique interactive Museum and attraction where are no opening hours you can show up from a blue and buy your tickets at the door. Cold War Park works only with prior bookings and closed groups. So there is no queue at the entrance no crowd inside a museum so you can enjoy every minute of your visit.
Looking forward to your reservation,
"Trust is a nice thing, but control is better"
2021-02-26 08:36:37
---
Bónusz Brigád Kedvezmény!
Sajnos áttételesen mi is károsultjai vagyunk az ügynek mint szolgáltatók ezért úgy döntöttünk, hogy minden károsult vásárlónak aki 2019-2020-as bármilyen brigádos kuponnal rendelkezik amit nem tud beváltani mi 20% árkedvezményt biztosítunk élménylövészet, Tankvezetés, MotorPaintball programjaink árából! Csak hozd a kupont és adjuk a kedvezményt!
A Szolgáltatások menüpontban csak foglald le a programot és a megjegyzésbe írd be, hogy "brigád károsult" Hozz egy kupont és nálunk kapsz érte 20% kedvezményt!
2020-08-13 22:27:53
---
WE ARE OPEN!!!!
NO WORRY ABOUT COVID 19!
The Big Brother is watching you at Cold War Park. We are prepared with hand sanitizer and equipment cleaning before each program. Please Book at least 48 hours ahead!
You can always reach us on phone if you have any questions!
+336706743232
2020-08-08 00:19:05
---
HOT NEW PROGRAM FOR 2020! Motor Paintball the most exciting Paintball Game ever!
Attack targets with 100% realistic markers while offroading on a military 4x4!
5 Participants / Car .
Have an unforgettable but affordable military experience with your friends! It is our best program combining Military vehicles - offroading - riding and shooting at the same time!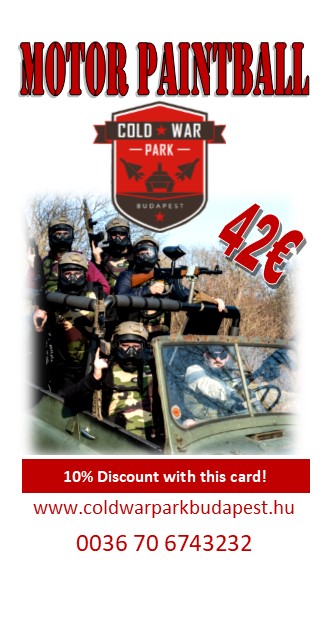 2020-03-01 22:50:32
---